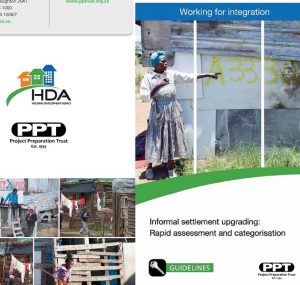 PPT played a leading role in developing the methodology for the Rapid Assessment and Categorisation (RAC) of informal settlements and has helped to establish this within Metro, Provincial and National upgrading programmes (including within the KZN Informal Settlement Strategy and the guidelines and the tools utilised by the Housing Development Agency (HDA) and National Upgrading Support Programme (NUSP).
In 2014, PPT developed an RAC Guideline for the HDA. RAC is an activity undertaken at the 'programme level' in order to identify and better understand informal settlements within a particular province or municipality and to thereby categorise them in terms of the broad types of developmental responses which are appropriate and achievable.
Click here to download the full guidelines. Click here to download the summary guidelines.